Well, I finally think me and (mostly Lily)
are ready to begin our weekly topic lessons...
I knew it was time when Lily said,
" Mommy, what are we going to learn this week...."
and I was like,
" That's a really great question... I have no idea!"
I asked Lily what she would like to learn about,
and I pretty much knew the answer before she even said it....
DINOSAURS!
Before bed at night and at naptime,
my husband or I tell Lily stories
either from when we were little,
or completely ridiculous made up stories...
Sometimes I like to combine them.... for example:
eh' hem
Once when I was a little girl, I found a big egg in my closet...
I brought it to my daddy and asked him if I could keep it.
He let me keep the egg in my closet under a lamp.
About a month later, it hatched and it was a dinosaur!!
A Pterodactyl to be exact!
( In all honesty, I don't even think the Pterodactyls are actually dinosaurs,
but hey, its a fictional story right?)
And Pterodactyls can fly!
When the pterodactyl grew up, it would take me for rides over our neighborhoods. I could see over the tops of trees, and even flew over the ocean once!
Blah blah blah, the story goes on...and every day I would switch what kind of dinosaur it was that hatched in my closet... ie- stegosaurus which helped me climb up things because he was like my personal ladder, or the brontosaurus who was like a walking slide because I could slide from the top of his head to the bottom of his tail....(she loves that one!)
Anyway, there is my long winded(written) explanation of why I knew Lily would want to learn about
DINOSAURS
(You can imagine me roaring everytime you read that :)
Ok, now onto what we will actually do to learn about dinosaurs...this is kind of refreshing getting back into it...I feel recharged!
Side Note:
My goal is to teach Lily about Dinosaurs from a Christian perspective ie- "Creation" Here are some resources for you if you are interested in teaching the same!
Christian Answers.Net
-
Great resource for lessons about dinosaurs
Clarifying Christianity
-
Great resource for you, the teacher to catch up on Christianity and Dinosaurs
Answers in Genesis
-
A Woman's Testimony about her journey to God through Dinosaurs! Pretty Cool!
DINOSAURS! ROAR!!
Books:
No T Rex in the Library!
by Buzzeo, Toni
Dinosaurs Love Underpants!
by Freedman, Claire
Have you seen my dinosaur?
by Surgal, Jon
Buying, training & caring for your dinosaur
by Rennert, Laura.
The super hungry Dinosaur
by Waddell, Martin.

Boo's surprise
by Byars, Betsy Cromer.
Skippyjon Jones and the big bones
by Schachner, Judith Byron.
T. Rex and the Mother's Day hug
by Grambling, Lois G. ( Had to do this one....since Mother's Day is coming up!)
Resources from the Library

:
Crafts for kids who are learning about dinosaurs
by Ross, Kathy
Sesame Street. Dinosaurs! [videorecording (DVD)]
Full screen ed.
Crafts:
Click links to see sources
Dinosaur Feet
-
How to Found over at Danielle's Place
- Just because they are fun, and I can incorporate make believe!!
Paper Mache' Dinosaur Hat
from Enchanted Learning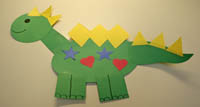 Shape- A -Saurus
-
when you combine 8 shapes, you can make a dinosaur!
Songs
(Source)
FIVE ENORMOUS DINOSAURS
Five enormous Dinosaurs letting out a roar
One went away and then there were four...
Four enormous Dinosaurs munching on a tree
One went away and then there were three...
Three enormous Dinosaurs didn't know what to do
One went away and then there were two...
Two enormous Dinosaurs having lots of fun
One went away and then there was one...
One enormous Dinosaur afraid to be a hero
He went away and then there was zero...
DINOSAURS OF LONG AGO
(Action Song)
The Dinosaurs lived long ago,
And walked like this, and that. (Walk heavy like Dino's)
Some were large (Stretch arms apart.)
And some were small. (Squat down.)
Some liked water (Swimming motion)
And some liked land (Stomp feet.)
Some had wings that flapped and flapped. (Flap arms)
Some had long necks that stretched and stretched (Put hand above head)
The meanest, rudest one of all was ferocious Tyrannosaurus Rex
These were the Dinosaurs of long ago.
Goodness gracious! Where did they go?
Snacks
Dino Dig Cupcakes-
Found at Homemaking Fun
- Have the children go on a dinosaur hunt inside the cupcake!! Awesome idea!